We're supporting missions
while sustaining culture
Core Behaviors
Core Behaviors
While our mission guides everything we do, our behaviors define who we are. As a community-owned Alaska Native Corporation, we live by our values and follow core behaviors that have guided our corporation – and our people – for generations.
Create meaningful value
We are a forever company that builds enduring relationships with mutual trust and respect. We treat our customers as we do our Elders – they always eat first. We offer fair prices and a best value approach. We choose customers who see us as valued partners.
Empower people
We believe all of our employees are capable of extraordinary things. We treat employees with respect and dignity. We provide employees who are committed to reaching their full potential with the opportunities and resources to grow and overcome challenges. We cultivate leaders at all levels by modeling and encouraging humility, courage and self-reflection.
Do things the right way
We are in it for the long haul and are proud of how we deliver services and win work. We never compromise our integrity, ethics and safety standards. We are respectful, honest and open with each other. We own up to our mistakes and stand by our commitments.
Build community
We honor our community ownership by making decisions for the collective good. We embrace the diversity of the Chugach family and our communities. We are a positive force within our communities and workplaces. We take time to have fun and celebrate our successes.
Leave things better than we found them
We strive for excellence - not the status-quo. We seek ways to make our workplaces more safe and efficient. We are passionate about continuously improving our company and each other. We realize that sometimes the smallest changes can have the greatest impact.
We offer competitive benefits!
Medical, Dental, Vision
We offer fantastic medical, dental and vision benefit plans that have been carefully designed for eligible employees and their dependents.
Education & Training
We love to develop and promote from within. Chugach supports a variety of training opportunities and tuition assistance programs for eligible employees.
Retirement
Eligible employees may defer pre-tax dollars for retirement; most plans offer a company-match to increase savings potential.
Paid-Time Off
Work-life balance is vital to our team staying motivated and engaged. Eligible employees may participate in PTO programs which increase as tenure grows with Chugach.
Paid Holidays
At Chugach, family time is important, especially at the holidays. Our paid holiday benefits are available for eligible employees and may vary by company.
Life & Disability
Chugach helps to prepare for the unexpected by offering income protection options for eligible employees and their dependents.
Employee Assistance
EAP benefits offer support during difficult personal times including counseling, financial & legal issues.
Flexible Workspace
Chugach offers eligible employees flexible working options recognizing that each team member has unique needs to enable giving it their all!
Safety is inherent in every element of our work and function of our management. The words bind us to our mission, securing profitability and heritage to be celebrated for our shareholders. Safety is woven into the fabric of our Chugach family by the practice of our Core Behaviors.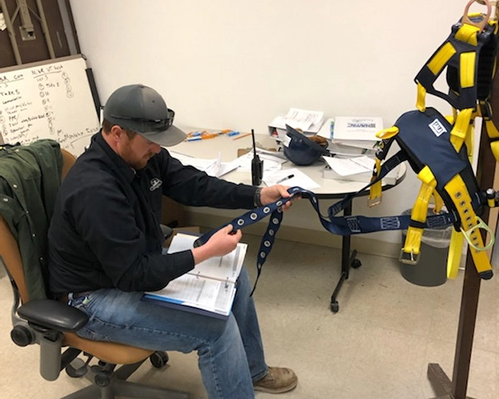 "Leading by example and empowering people to be safe is the best way! It's the way we do safety at CGS!"
Brett Workman, Site Safety Health Officer
"I have come to know so many people through the 20+ years I've been here that I've developed deep friendships with. Everyone at Chugach is a family no matter what position you are in."
Taylor Mattson, AP Staff Accountant
I am empowered to spend my days working side-by-side with the people for which my work creates meaningful value. I see how the impact of improvements in business process directly affect the lives of our shareholders and employees.
Josh Hite, Business Process Manager